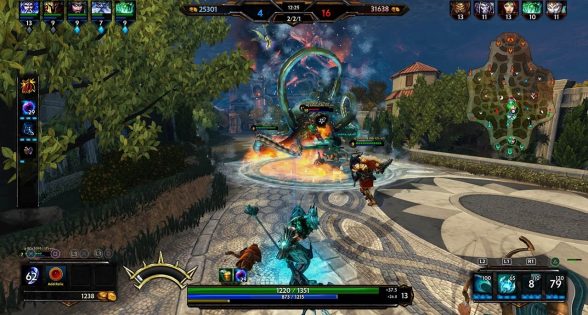 SMITE – The exicting game of the gods battle
SMITE is an epic "War between Gods" with an immense war context, provided free on Windows PC by publisher Hi-Rez Studios.
---
SMITE is an online MMO game that has the gameplay of MOBA (battle arena online) with many similarities with Defense of the Ancients (DotA). Although it is a completely free MMO game, players are still allowed to purchase the starter package with certain privileges in SMITE – this package costs about 20 USD.
Being evaluated as the most MMORPG role-playing game with the most noticeable DotA game in 2012, SMITE promises to become an equal competitor to other titles in design. The game owns the English interface for users.
However, while DotA based DotA uses a first-person view from above, SMITE is built on a third person view from behind. This feature makes SMITE more similar to the familiar offline role-playing games, but will make it difficult for gamers to observe opponents from behind. To overcome this, players need to coordinate better groups to win the whole.
SMITE opens a world of gods, in which players will play any god from one of the world's civilizations, fighting in a grand Roman arena similar to DotA but in the view of third person.
Specifically, players will transform into mythical warriors, choose a god to role-play and fight. Besides Hindu gods, a number of Greek, Norwegian, Chinese and Egyptian idols and religions are also included in SMITE to increase the attractiveness and diversity of characters.
In SMITE, players will control some of the gods in this religion, Kali, Vamana and Agni. In terms of gameplay, producers allow players to control the movement and behavior of these characters while in fact the followers always put their fate in the hands of their gods. Besides, the portrait of the goddess Kali, one of the most revered gods in India, also appeared in the game.
DotA-style game with 3 battle lines, pillars, pre-programmed attackers, 5-player game matches (5v5). The key to success in SMITE is the game players need to coordinate with teammates, destroy the enemy base to win the final victory.
However, the most outstanding feature of SMITE game comes from beautiful 3D graphics. This is not only a process of upgrading images, but also changing the usual gameplay of MOBA series as well as increasing the difficulty of controlling heroes many times.
Developed with Unreal Engine 3 technology, the graphics in SMITE are particularly impressive. From maps, heroes to moves to show the power of today's most advanced game production technology.
For more information on SMITE games, you can refer to the Getting Started guide or read the contents of the SMITE Beta FAQ.