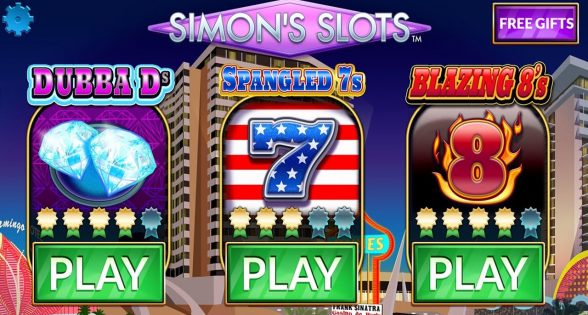 Simon's Slots – Attractive casino game on the computer
Simon's Slot is an attractive casino game with lots of different slot machines, allowing players to enjoy the bustling atmosphere of Las Vegas right in their home.
---
Slot machines are from the classic Lucky 7s to the modern-style Glitzy Kitten. Gameplay takes players through 5 different areas in Vegas and if all the coins (tokens) to play, the game will give you a free token 15 minutes each time. Overall, Simon's Slots is a colorful entertainment game that you can choose to play on both computers and phones.
The main menu of Simon's Slots shows the available slot machines in your area (called lobbies) along with game parameters and the option to go to other areas to experience other types of interesting slot machines. The 5 lobby that the game brings to the player include Vegas South, Old Vegas, Vegas North, Library and Boardwalk. In total, all five lobbies bring 24 different slot machines. Game parameters include level and credit information. In the Main Menu you can also view your achievements and buy credits through in-app packages.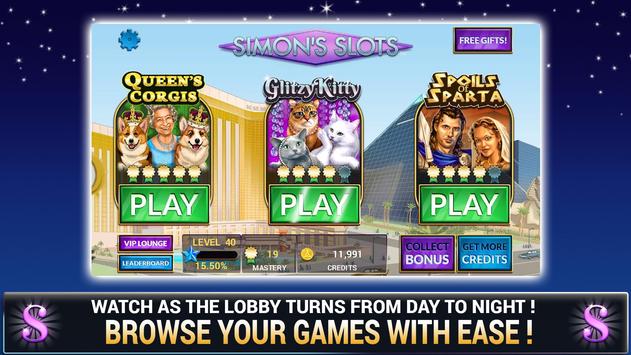 In terms of gameplay, Simon's Slots is like other gambling games, you bet at least 50 credits and select the Spin button to start the spin. The game also has a button that allows you to automatically place your maximum bet (100,000 credits) and if you select Spin, you will bring the game to Auto-play mode. Simon's Slot offers 3 game modes:
– Classic Mode: Traditional play, simply put the camera and try your luck.
– Zen Mode: When the camera will have light boxes and when the machine stops, you will have to select the highlighted cells in order. This mode is similar to Mastery Mode but is more relaxing when the player tries to select as many cells as possible.
– Mastery Mode: Same play style as Zen Mode but with faster speed and bigger bonus.
No matter which mode you choose to play, the more experience you will have 24 slot machines from locations will be gradually unlocked during the game. To help players, Simon's Slots also offers free credits but you also have to spend quite a bit of time to enjoy. Waiting for 15 minutes will yield 100 credits and if you wait 30 minutes, you will have 200 credits, so, the longer you wait, the more credits. If you want, you can buy in-game credits, from 10,000 credits for $1.99 to 1,000,000 credits for $99.99.
Although it is a form of games that depends more on luck than calculating, with many slot machines and game modes, Simon's Slots is still a great choice for entertaining in your free time. The game is free and has advertising support. While playing, no internet connection is required, but if you want to download and install the slot machines that you have unlocked, a network is required. If you are a fan of casino games, especially fans of the game series who rob one slot machine, this is the option to consider.